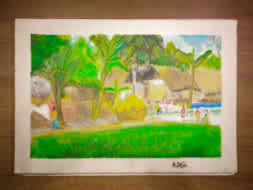 একবার যেতে দে না আমার ছোট্ট সোনার গাঁয়ে
Abrar Jahin
Title: একবার যেতে দে না আমার ছোট্ট সোনার গাঁয়ে
Art Work by: Abrar Jahin
This portrait is a scenario of a village in Bangladesh. Very nice view with the scene of realty of poverty. Watch the video:
The main thing is, in this critical time, we really are now stuck in a specific area which is needed and good for us but also can be harmful. so keep your mind fresh with us. Be happy. Stay tuned.
At the ending, we tried to show you that White is not enough. Black also can set the beauty of white.
Music: একবার যেতে দে না আমার ছোট্ট সোনার গাঁয়ে
Also available on:
Facebook: @2haas
Instagram: @2haas_insta
YouTube: 2HAAS
Twitter: @2haas_tw
Pinterest: @2haas_pin
Posted On: June 22, 2020
Share